This weekend, I can proudly say that I have completed my first ever shop in a local Lidl store! The prospect of 'budget grocery shopping' is something I debated only a couple of weeks ago and, at a new age (personally) and with the summer months ahead, I decided that this was a good time to go.
Yes, I even had the cheek to take bags from a larger supermarket – I hope nobody thought I was trying to cover up any 'shame' as I left the car park; I simply didn't fancy spending 45p for a piece of non-recyclable plastic.
My lesson was a definite reminder to bring my wallet for each visit… I rarely pay for anything by cash and instead, I always carry a card on me. But Lidl had one of those trolley systems where you have to deposit a £1 coin to free your shopping wheels during the duration of your visit… This meant not actually being able to go inside on my first visit and having to return the next day!
I'm now looking at buying one those trolley token keyrings, as those trolleys aren't likely to accept change… 😉
In preparation for my first visit, I'd looked online for photos of an average interior layout but this wasn't easy to find (Google ShopView; one day…). Many of the comments I'd read suggested it was perhaps "less organised" than some of the larger supermarket chains and also akin to the local convenience store you might pop in to on a sunny holiday across in Europe – I'm reminded of shelves stacked with little more than bottled water and giant packets of crisps…
But in reality, while I was surprised to be greeted almost initially by the delightful bakery aisle, it didn't look half bad. 'Minimal' might be another word. 'Simplistic' could also be used but, cautiously walking around, the prices were very clear and easy to read (unlike some of their competitors). There were fewer blatant attempts to con people in to spending more money with less bargain deals than to be expected elsewhere.
Bread is always going to be important to me and, over time, I'm sure I'll be sampling just about everything their bakery has to offer! I went with the cheapest options for bread [why not?] and while I expect it to taste fine, I may have to get my tape measure out to contest the 'medium' thickness of the loaf's slicing…
But I had to quickly choose my cereal before heading on to lunch – so, even with the milk on the opposite corner from the main door; there was some order to the store manager's system. I'm sure you can recognise the 'Shreddies' but I was impressed with the 12 waffles for under £1 – that certainly beats the offers I've seen elsewhere.
This brings about perhaps the most unexpected discovery of my trip… Along with all the low-cost brands, I could spot names like Digestives and Golden Wonder on the shelves. Where I was expecting a barrage of own-brand packaging (think back to Kwik-Save's 'No Frills' eye-bore), it is these lesser-known names who've given Lidl their place on the market.
You can get all your standard fruit and veg (which I haven't bothered to photograph here) and I even noticed a reasonably-well stocked baking section not far from the tills. Whether or not that is seasonal remains to be seen, as I've read that they can be liable to shuffling their stock lines, from time to time.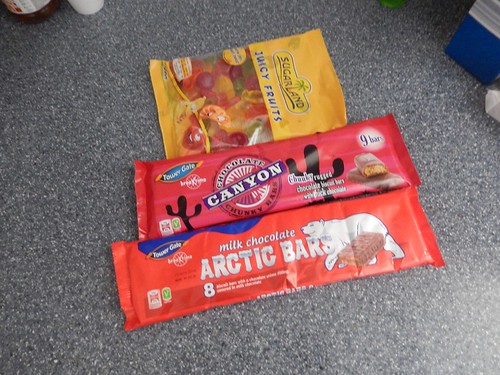 If there was one disappointment then it was in the lack of 'reasonably-sized' chocolate bars on the shelves.  I noticed Penguins and a couple of other known brands but I'm quite accustomed to my Mars bars and I've been told that Aldi, at least, offer a cheaper alternative to the Twix. But then, KitKats weren't always chunky. Perhaps this is an opportunity to ween myself down to a little less chocolate than I prefer… Just in case though, I bought two packs to be safe! 😉
That bag of sweets might come in handy during a 22-mile hike this weekend although, I forgot to purchase a second bottle of water.
There were a few items I haven't photographed but I'm sure you'll recognise the ones posted directly above.
In all, it was a positive experience and I'll be going again next week. Because you're hopefully interested to know, I spent less than £21 this week and I reckon that's saved me £5, if not slightly more, over a comparative shop at a 'more-established' chain. I did notice a lack of kitchen utensils (in spite of all the camping kit and electronics) but if I do have to return to a bigger name from here on, I'll be picking up a basket and not steering  trolley.
I'm still thinking of those chocolates, which has got Aldi on my mind… My nearest is 8 miles in the wrong direction so, I'll stick with Lidl for the time being (it's close to where I work) and I'll try to venture further on a rare occasion, just to see for myself. But if I can stand to save £15-20 a month then I've not got anything to lose.
Thanks for reading and happy shopping!
Related articles